The Candy Fashion giftset by Charisma dolls
Charisma dolls issued a new version of the vintage Candy Fashion set that was originally introduced in 1962. This is a wonderful reproduction. The doll is a nice quality vinyl with sleep eyes and comes complete with a replica box, mannikin stands to display the clothing and plenty of accessories, just like the original. The set is issued in a limited edition of 1962 dolls and was released in late 2006.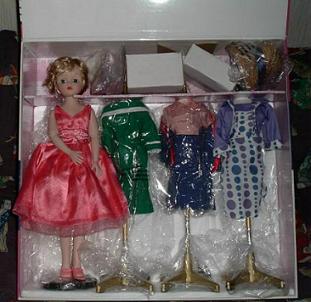 The doll arrives in the large giftbox just like the original.
The peach cocktail dress, a replica of the original.
The swimsuit in lavender cotton, another great reproduction of the original fashion.
The green dress with hat.

The blue suit.
A comparison picture of the Candy Fashion doll and 19" Dollikin and a modern Cissy.

Return to Val's vintage replica doll main page