The Sebastian of London Doll
This is a very unique fashion doll that was only produced in 1969. She was made in very small quantities (only 100 dolls) in London for Berkbridge for Sebastion of London. She is 22" tall, has rooted real eyelashes and sleep eyes. She has a lightweight jointed vinyl body, but it was the clothing that made these dolls special.

The clothing was hand made and each piece is tagged with the Berkbridge Sebastian of London "hand finished" label, as well as the label of the particular U.S. store that a particular outfit was sold at. The doll was basically used as a fashion model to take orders on real life size versions of the clothing that she wore. My doll has the label from the Halle Bros Co. department store in Cleveland, Ohio. The outfits were only made for one doll as a sample and then the dolls and their outfits were sold. They were quite expensive at that time. Each piece of clothing was made as the real full size clothing would have been made with real buttonholes and buttons, zippers, real leather and finishings. I happened to find this fabulous example of this doll (who is sometimes called Sara Jane) . The following pictures show the tagged items of clothing. The dolls are not marked, so if the dolls are found nude, there is no way to determine if they were in fact, Sebastian of London dolls. The clothing was the only real way to identify these very rare dolls.

Here is the doll showing her hand made underwear, which is also tagged with two tags bearing the designer names. The bra is made just like the real thing, with actual padding and elastic .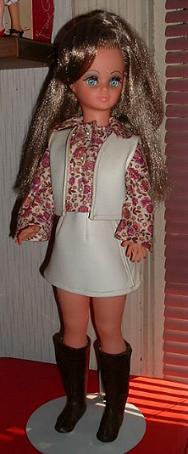 Here she is wearing her white leather mini-skirt and vest. All the clothing is beautifully hand made with custom button holes, pearl buttons, real ziippers and she wears real leather boots with tiny zippers up the sides.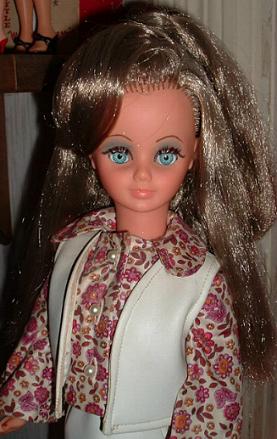 Here is a close up of her face with the long real eyelashes and her long rooted hair. She is jointed at the neck, arms and legs and has sleep eyes.



Here is a close up of her clothing showing the tags with the designer name as well as the department store name.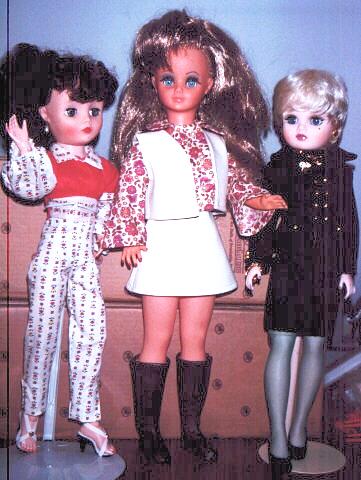 Here she is along with Uneeda's Dollikin on the left and Madam Alexander's Cissy on the right to show her size. She is about 4" taller than these fashion dolls.






Return to Val's vintage doll Page