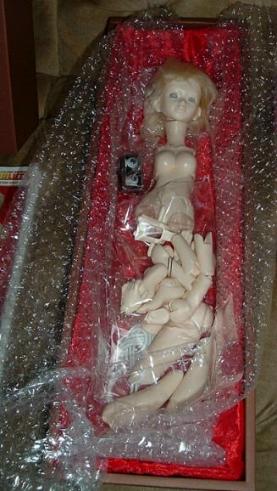 The kit as it arrives. The stringing diagram is very easy to understand, even if you do not read Japanese. Lots of pictures and the elastic is already measured and cut to size.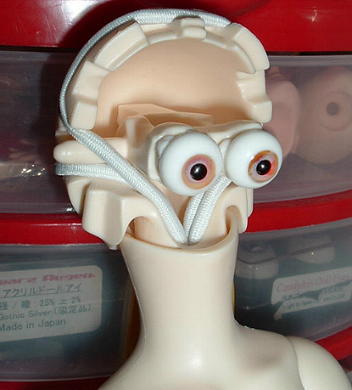 The Chibi eye mechanism is similar but superior to the previous Unoa moving eye mechanism. You can use any 12mm eyes that have pointed backs that will fit into the holes in the mechanism. You can also choose not to use the mechanism and use eye putty if you like for more eye variety.
Here she is strung, painted and body blushed.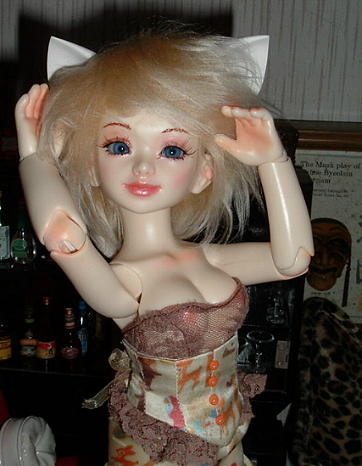 Wearing regular Unoa Qulut cat ear options. The holes in Chibi's head accommodate most of the regular Unoa options.
In a custom outfit I made for her by downsizing a Unoa pattern to 85%.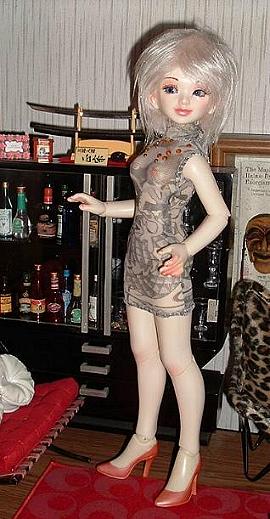 A knit dress I made for her. She wears the regular Unoa high heel feet option.
Wearing a custom dress made by me from a Gene pattern reduced. Fabric custom printed by me on silk.
Chibi Lilin and Unoa Lusis body comparison.
Links
Return to Val's ball jointed doll page
Crescent Shop to order Unoa dolls
Return to Val's main doll page